⇦ Trail Journal | Cucamonga Wilderness and Mt. Baldy, November 2021
Trip: 2 nights, 3 days
Mileage: 26.6 mi
First trip of the season. I sneaked out of work early and drove out to Mount Baldy (the town, not the mountain), and pulled up with daylight to spare. The trailhead is reported to be swarming with people in all seasons, impossible to get a parking spot unless you arrive before dawn, but on Friday afternoon there were only half a dozen cars. All of whom were apparently crammed with backpackers, though! I had to bust out my mask the moment I got out of the car. The sycamores and cottonwoods were lit up in orange, and the creek down in the canyon was running. Everyone was coming down as I was going up, and about 50% of people warned me they had seen a black bear messing around in the creek, and the other 50% didn't know what I was talking about when I asked about it. The bear canister I borrowed from a friend immediately proved the worth of its 2 lbs, 12 oz, in peace of mind if nothing else.
As usual, turning off the Instagram trail onto the regular trail instantly improved the situation, going from 2 people a minute to 2 people an hour—also transitioning from creek canyon sycamore friends to hillside scrub oak and pine friends. The trail was scruffy and duffy up through the switchbacks, then gravely-quartz crunchy as I came out onto the buckwheat- and yucca-covered south slope. The sun set "slowly, then all at once," and I lost the trail to the campsite for a hot second in the scrub. The darkening campsite was the Platonic ideal of a campsite: up out of the canyon, tucked behind a wrinkle of the hill, in a grove mattressed with the needles of pines and Douglas-firs. I set up the rainfly of my two-person tent, which is all I've been bringing on the last few trips to reduce weight; cooked my interesting little meal (orzo with home-dried onions, peppers, and "tomato leather," plus sundried tomato pesto and pizza place parmesan packets); tried to choke down some dark chocolate with almonds and sea salt, which is way worse than my favorite flavor from the same brand; wedged my bear canister between two trees; and anxiously went to bed. I have been either too confident or too ignorant to be worried about bears before, but the Angeles National Forest bears are known for being dirty little sneak thieves. My new sleeping pad was cozy AF.

Set my alarm to get an early start the following morning, with everything packed up and hitting the trail by 6:45am. The elevation change from my campsite to the saddle was only a 4% grade, but I still took it slow, breaking frequently for handfuls of homemade trail mix (peanut butter M&Ms and dried cherries is the protip) and icy mouthfuls of water. I sometimes feel really wimpy and pathetic for how slowly I take elevation gain, especially when I'm hiking with others, who inevitably leave me in the dust or, worse, wait for me while adeptly concealing their impatience. But I also hate hiking with slower hikers than me, since I get impatient myself and am probably much less gracious than my rapid acquaintances. That's why I love solo hiking and backpacking! Don't talk to me, I'm wallowing in the majesty of the world at my own pace! Yellow cobblestone lichen, wedgeleaf goldenbush, Wright's buckwheat, strange unknown moths with dusty brown-grey cloaks... I'm busy looking!!!!
I hit the saddle just after 10am and made my nasty oatmeal as a second-breakfast/first-lunch situation. I put together a bunch of home-dehydrated backpacking meals at the end of last season (silly timing, who wants hot food down here in the summer?) and was just getting around to using them up now. This one had raisins, almonds, dried apples, and powdered milk that I think spoiled in storage. Anyway, I choked it down while eyeing the dozens of hikers mooching around the saddle with their trekking poles and overly dramatic running shorts-fleecy leggings outfits. Hiking on a quiet trail and abruptly meeting up with the popular trail always makes me feel like a wild animal encountering humans, like, what the fuck are you doing here?! Fortunately, most people only want to do the most popular peak in an area (or maybe three most popular, at most) and leave the rest of the trails comparatively empty.
The rest of the day was a gallivanting clump-clump-clump from one "Three Ts" peak to another, cruising around in the 7500-9000ft elevations, putting on my cozy little gloves as my hands started to freeze in the howling mountaintop winds and taking them off again as I sweated coming down. Crossing the saddle between Telegraph Peak and Thunder Mountain, I almost lost my hat. (Hiking across a narrow saddle trail while grabbing your hat to your head with both hands!) Continued to try to choke down the dark chocolate with almonds and sea salt, which gets proportionally more palatable the more miles in a day I hike. I had pinned all my hopes on eating a burger at the Top of the Notch restaurant at the foot of Mount Baldy, not to mention using the restroom (!!) and refilling my water, but it turns out that the kitchen was closed or something, so I could only buy a bag of barbecue kettle chips and a waxed-paper cup of "cider" (heated apple juice). It was still really good though. Snowboard and backpack bros... I never feel so much alienation from humanity as when I come out of the privacy of the nature into companionship with other people. I really hate that feeling. But the chips and warm juice made up for it and then some.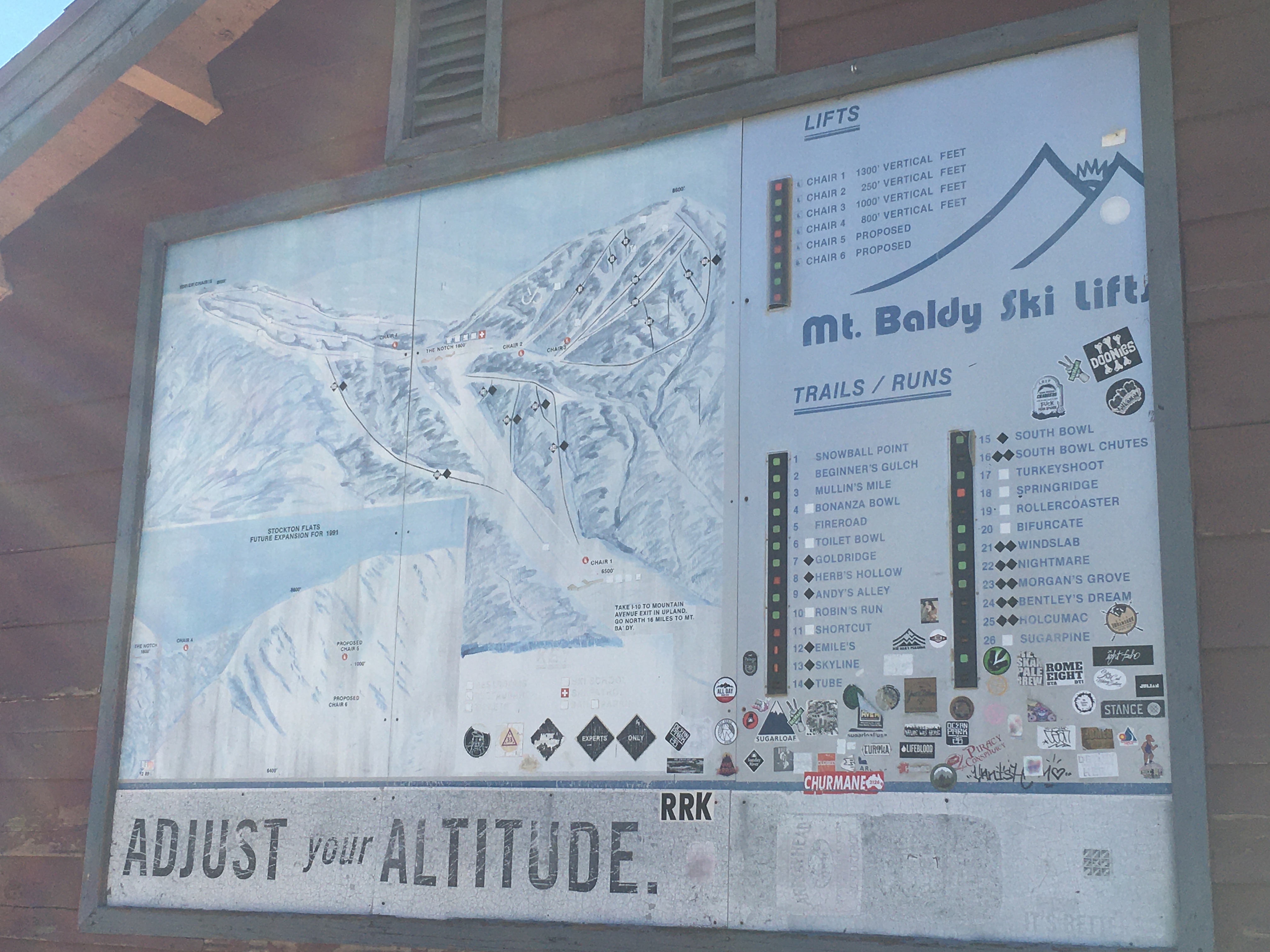 After second lunch/first dinner, I subtly sneaked over to the no-access truck trail down which I was supposed to camp. I had this plan of hopping a weeny bit off-trail to go camp at a "yellow post" site, which is a site in the national forest where you can camp for free with no reservations ("look, there are only one or two topo lines in between me and the yellow post site! no big deal!"), but as I descended on the truck trail down the rim of a huge valley, I realized that my plan was stupid AF and that in order to reach the yellow post site, I would have to scramble several hundred feet desperately down a steep slope of loose scree and pine needles, and what's more, scramble my way back up the following morning. Sigh. Side of the road it is. At least there were a few pullouts that allowed me to hunker behind a couple trees to try to keep the wind and prying eyes off. And the drop was only 10 feet away from my tent, not 1 foot.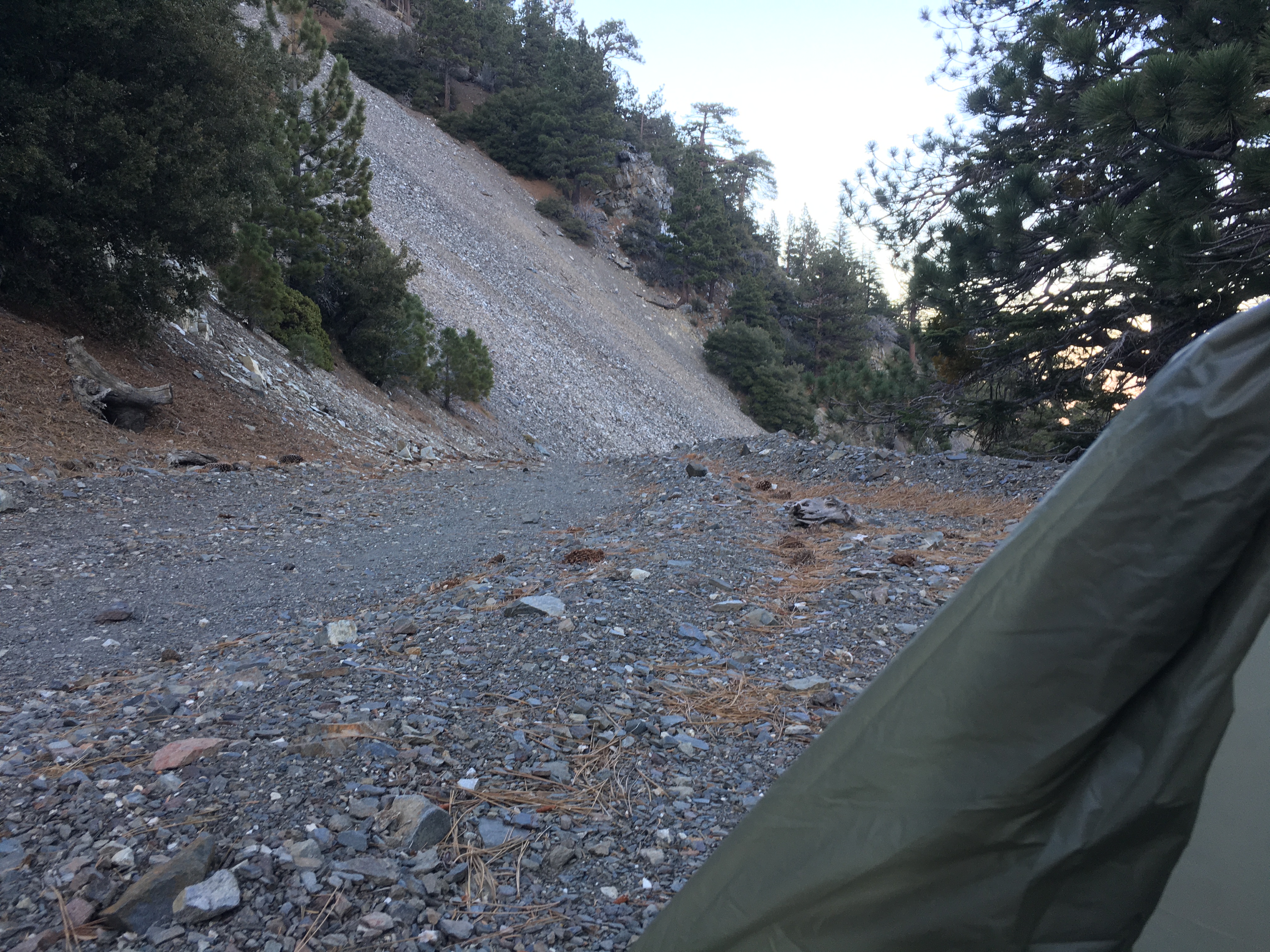 I boiled my home-dehydrated Thai curry (cashews, red peppers, onions, pineapple, jasmine rice, powdered coconut milk, plus a little jar of red curry paste and fish sauce), ate it, and settled in for a long sleepless night of the wind buffeting my rainfly SHWUMP SHWUMP SHWUMP SHWUMP SHWUMP SHWUMP SHWUMP SHWUMP SHWUMP SHWUMP SHWUMP SHWUMP SHWUMP. The mountain lion fear was real, but as is usual for discomfort on my solo trips, I felt like I didn't sleep a wink, but I was lying in my sleeping bag for 10+ hours so obviously some sleep happened there at some point. My podcast soothed me to sleep. Next time I'll be bold enough to wear earplugs.
Morning found me packing up my shit and getting the hell out of dodge. The truck trail was thick with heavy scrambly rocks.
My new sock-shoe situation (toe socks & hypebeast Brooks Cascadia running shoes instead of my former setup of Smartwool socks and waterproof hiking boots) was a roaring success. The first backpacking trip I've ever been on where I wasn't crippled by extensive blisters!
Notable organisms: flowering California fuchsia (Epilobum canum), Wright's buckwheat (Eriogonum wrightii), wedgeleaf goldenbush (Ericameria cuneata), arroyo willow (Salix lasiolepis), bigcone Douglas fir (Pseudotsuga macrocarpa), yellow cobblestone lichen (Acarospora socialis).