Direct from my browser bookmarks folder to your white little eyeballs.
I've got so many damn links, and there will be more and more and more added as time goes on and I can cudgel my brains into remembering them. Jump to ecology, nature, and the greater-than-human world; lesbian, BDSM, queer, and leather culture; cyber freedom; hiking and backpacking; the best blogs of all time; art, design, and creativity; scams and cults; and much much moar. You just have to free your mind, and the rest will follow...

Ecology and the Greater-than-Human World
Eat the Invaders: "Fighting invasive species, one bite at a time." Lionfish in the Caribbean, grey squirrels in the UK, wild boar all across America: eating invasive species as a form of biological control is good for the natural environment (caveats) and good for your tumtum!

Bloom report for Anza-Borrego Desert State Park: places, species, and predictions for the rest of the season. Essential reading for city-dwelling desert rats at heart

A Natural History of Orange County, California, and nearby places: marvelous! Not exhaustive by any means, but a great step in the right direction for anyone identifying critters. Many many overlapping organisms with SD County, and some extremely high-quality photos. The lepidopteran page (butterflies and moths) is helpful, since male and female upperwings and underwings are frequently included

All About Birds: the ultimate online bird resource and ID guide, operated by the Cornell Lab of Ornithology

Field identification of the 50 most common plant families in temperate regions: what it says on the box. Includes illustrations, basic characteristics, and a brief plant family phylogeny. Print it and keep it in your backpack today

fatehbaz.tumblr.com: exhaustively researched and cited essays on ecology, biogeography, herpetology, indigenous traditions in the natural world, natural resource exploitation, tensions between Western scientific naming traditions and indigenous place-values, capitalist conceptions of "barrens" and "wasteland," and more
Lesbians, Leather, and Queers
A History of Leather at Pride: Aphyr writes a detailed, historically aware, and definitive summary of the history of leather at Pride, cited to the nth degree. Essential reading from mid-May onward as the wheels begin again to churn

A History of BDSM: just what it sounds like. Includes vintage photography, memoir and essays, book reviews, an extensive film review series cheekily called The Celluloid Dungeon, and much more. The Curious Kinky Person's Guide to Fifty Shades of Grey annotation-slash-review series is a particular favorite. Start here with chapter 1 of the first book

Bad Gays episode on Joe Carstairs: "The eccentric inheritor of an enormous oil fortune and gender non-conforming-lesbian-trans man (we'll talk about it!) who dated Marlene Dietrich, raced speedboats, and turned their private Bahamian island into a domain over which they ruled over native people with an iron fist while allowing themselves and their guests every possible eccentricity and pleasure. All this accompanied by their lifelong companion: a foot-tall leather doll named Lord Tod Wadley." The rest of the series is an incredible pleasure, including the masochistic compulsions of painter Francis Bacon and the masculinist-worshipping fascism of the first publicly gay Nazi, Ernst Röhm. This episode is also where I first heard the following quote, by Tallulah Bankhead: "My father warned me about men and booze, but he never mentioned a word about women and cocaine."

GAYLETTER: An online publication that started out as a weekly email newsletter with five events to attend in New York's gay scene. Since 2014, it's a print magazine and website. Interviews, art, and photos. Oh, the photos. It makes me tear up to remember how close we used to be able to get to one another, how we could feel each other's heat when we hugged

Nobody left to believe: Huw Lemmey on Freddie Mercury as a charismatic camp contradiction, the most famous leatherman in the world, and an iconic rock god who never achieved the status of a gay icon

QZAP (The Queer Zine Archive Project): "The Queer Zine Archive Project (QZAP) was first launched in November 2003 in an effort to preserve queer zines and make them available to other queers, researchers, historians, punks, and anyone else who has an interest DIY publishing and underground queer communities."

Asa Seresin: interesting discussions of lesbian fascists, heterofatalism and "abject feminism," and a curiously deleted essay critiquing Jenny Fran Davis's notion of "high femme camp antics" in the LA Review of Books (to read it, go here and Ctrl-F "femme camp"). Why was it deleted, the reader wonders? Gosh, who can say...

Strange Sisters: an archive of at least 700 lesbian pulp fiction paperback covers from the '50s and '60s. Also see the Fred Haley tag at Pulp International. A treasure trove, as you can see below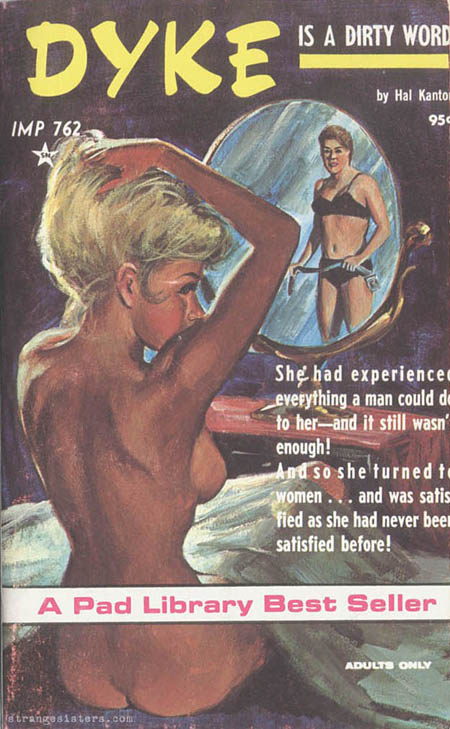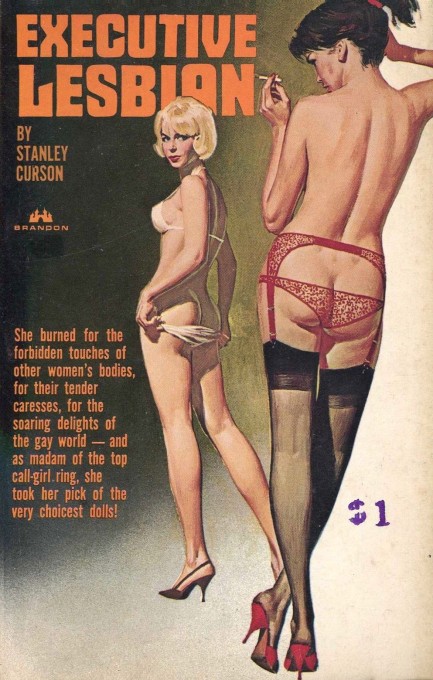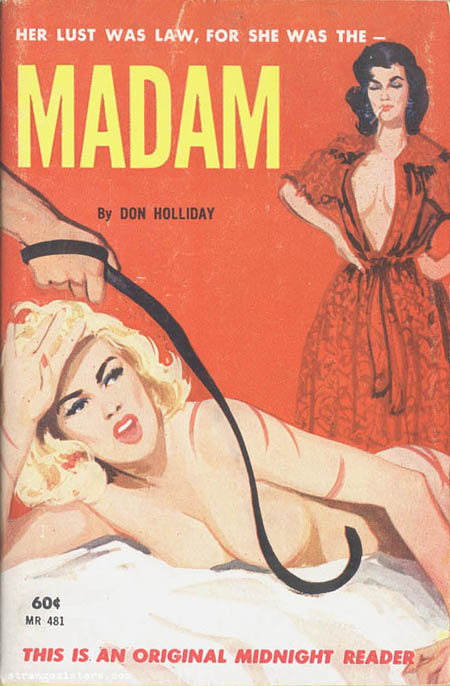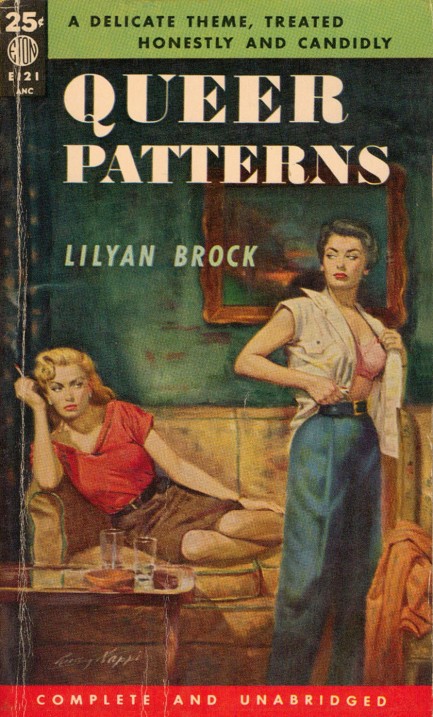 Cyber Freedom
Cory Doctorow's Pluralistic: daily links and analysis from Cory Doctorow on subjects as diverse as private-equity looters, the contractor-ization of delivery people for Amazon and rideshare companies, corporate and tech malfeasance, the many evils of Disney, cop surveillance algorithms and spyware, et cetera—he guarantees "no trackers, no ads... we don't collect or retain any data at all ever period."

Competitive Compatibility: Let's Fix the Internet, Not the Tech Giants by Cory Doctorow (Communications of the ACM): "The sock company does not get to specify your shoes and the dairy does not get to dictate which cereal you pour milk over..."

Facebook's secret war on switching costs on the Electronic Freedom Foundation: "Facebook is full of people whose company you enjoy, but if you don't like its ads, its surveillance, its deceptive practices, or its moderation policies, why not leave Facebook and find a better platform (or run your own), while continuing to send and receive messages from the communities, friends and customers who haven't left Facebook (yet)? Short answer? Because you can't."
Hiking and Backpacking
Carrot Quinn: my queer tattooed idol, the person who got me into mutual aid, and the person whose lush, intimate, embodied trip reports are personally responsible for over 200 of my trail miles

A broke girl's guide to getting gear by Nadia Mercado (Melanin Base Camp): can't say enuff good stuff about Melanin Base Camp and their mission to make recreation in nature accessible to everyone, especially hikers of color and anyone whose identity has historically not been welcome outdoors. This includes broke girls!!

Unlikely Hikers: founded by Jenny Bruso, another organization that aims to make the outdoors a welcoming place for everyone. Notable for their efforts in partnership with Gregory brand backpacks to make plus-size backpacking packs, literally the only manufacturer who consulted actual plus-size people and who don't charge a "fat tax"—buy 'em here!

How to have a successful hike (Rambling Hemlock): finding meaning in your long-distance hike outside of normative "hiker bro" "crushing miles" backpacking culture

Gaia GPS: killer navigational app for the GPS device-less among us. Create your own tracks and routes that snap to preexisting trails, export them to your phone via desktop-app sync, and use airplane mode to save battery in remote locations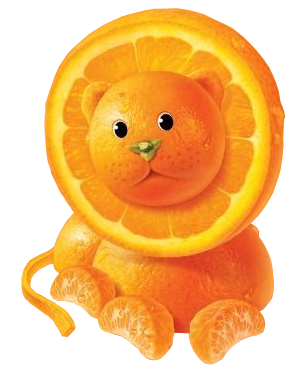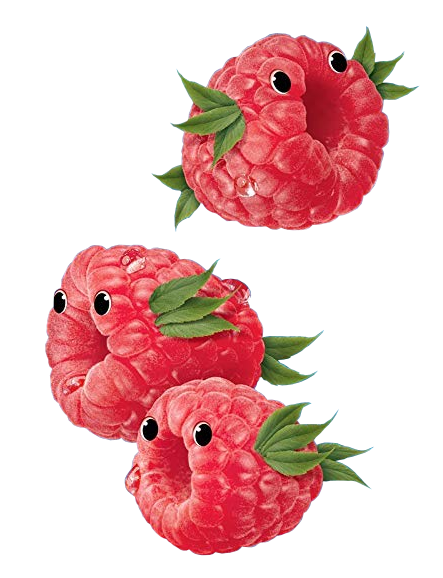 Blogs
I Went To A Megaplex To Watch Twilight For 14 Hours Straight: Don't judge it for being on Thought Catalog. Much like Caity Weaver's 14-hour mozzarella stick consumption marathon, this is fucking funny

Eat Your Words: Valerie Stivers for The Paris Review writes this enchanting series of dinner menus-cum-literary criticism as an embodied lens on art and its making. Inventive, inspired dish research and choice. "Peasant dishes need to be done hundreds of times before they take on the shape of the maker's hand and transcend." Favorites include Cooking with James Baldwin, Qiu Miaojin, and Anzia Yezierska

Ex Urbe: Renaissance historian and science fiction author Ada Palmer writes about the history of skepticism and atheism, Florence and other Italian cities then and now, and how the past is a foreign country: they do things differently there

Indoor Voices: "stuff to read when you're trying not to go viral"

MetaFilter: a blog in the true old-school style. New links and community discussion every day. The kind of thing people used to read over coffee

Down the Rabbit Hole by Issendai: a deep, dark dive into the underworld of estranged parents' forums, and the psychological blueprints of abuse that they reveal

Bloodknife: "a digital magazine about cyberpunk, sci-fi, horror, neon, knives, blood, and capitalism. We publish original work and pay fairly." Fiction, opinion pieces, and #vibesfordays
Art, Creativity, and Design
Window Swap: "open a new window somewhere in the world"

Keith Thompson: unsettling illustrations from a dozen parallel pre- and postmodern dimensions where necromancy and motherhood are carried in the same womb, trepanation allows you to speak to the gods, and astronauts are silenced by the "howling face of the sun." The images in Thompson's art haunted my preteen dreams, and still have a way of digging their hooks in

WFMU (91.1FM in NJ and NY, online elsewhere): "independent freeform radio broadcasting" and the best radio station ever. Featuring your favorite shows like Dr. Gameshow hosted by my girlfriend Jo Firestone, Vocal Fry with Dan Bodah ("music with vocals weird and wonderful—beatboxing, yodels, auction chants, Tuvan throatsinging, & eerie polyphonies"), Cha Cha Heels with ARB and Solo Mon... honestly, you can't go wrong

ColorBrewer2: perfect for selecting your cartographic palette, whether sequential, diverging, or qualitative

The Arecibo message: "an interstellar radio message carrying basic information about humanity and Earth that was sent to globular star cluster M13 in 1974," memorably described in Carl Sagan's Cosmos
Scams, Swindles, and High-Control Groups
U.S. Food and Drug Administration's List of Tainted Sexual Enhancement Products: a cacophonous list of scammy "herbal" supplements that, unlike most supplements and homeopathic medicines, actually contain active ingredients that can interact negatively with current medications. Browse through the masculine psyche. A random selection of names includes "Premium OrgaZen 7000," "Themra Epimedyumlu Bitkisel Karisimli Macun," "Kingdom Honey for Her" (inclusive!), "Kangaroo Intense Alpha 3000," and "Rhino SE7EN2"